About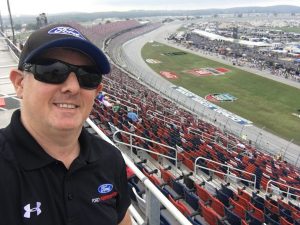 About Us
REVan Media Inc. is all about performance. Our mission is to create high-performance content designed to help your company out-perform the competition. Its founder, Evan J. Smith wouldn't have it any other way. Evan is a seasoned automotive journalist living in Tampa, Florida with over 25 years experience. As the former editor of Muscle Mustangs & Fast Fords magazine and Content Director at TEN The Enthusiast Network, Evan understands how to develop compelling, informative and entertaining print and web content to that connects and engages your audience and customers.
What is "Content?" Why is it important?
Content can be any information used to to entertain or inform your audience. Enthusiasts absorb content faster than ever before so it's important to have a constant flow of information for your audience. Content can include company news, new product announcements, "How-To" technical articles, feature articles, event coverage, video and the full range of social media from a Facebook Live video to a simple Instagram post. Having a consistent flow of content on your website improves your reach, your branding and when combined with a strong social media campaign, it has proven to enhance branding.
In many cases, a single piece of content can be utilized for website, social media, trade show, and distribution to customers via email blasts. When applicable, REVan Media will share your content with our media friends, many of whom are constantly on the hunt for great stories, photos and video. Ultimately, we strive to give your team the very best tools to connect and engage with enthusiasts and to ensure growth in your company.
Tell Your Story To The World
The world is ever-changing so don't wait for others to tell your story. REVan Media gives you the ability to tell your story yourself. The wide reach of the Internet offers you the opportunity to show your business or race team in the best light. More importantly, it allows you to engage your audience and create a direct connection with them. This is accomplished with clean and easy-to-read text to describe your products, services and accomplishment, and with compelling photography and video for your company's website and social media channels.
Creating personalized content gives you the power to reach enthusiasts directly, to tell your own story, and make the needle move using this direct connection to the customer. REVan Media will help tell your story, show what you can do, and turn engagement into views, clicks and sales. In addition, REVan Media can help you drastically shorten lead-times when presenting ideas and products to potential customers.
REVan Media has over 25 years providing turn-key "How-To" technical articles, News Releases, feature articles, complete event coverage, photography, video, and social media. We're prepared to get your brand's message in front of the right audience. This expertise is now available to you!
REVan Media's current clients include Hot Rod magazine, Ford Motor Company, Muscle Mustangs & Fast Fords magazine, Mustang-360.com, Shelby American, NHRA (National Hot Rod Association), E3 Spark Plugs, Hajek Motorsports, Bongiovanni Racing, Holley Performance, FordNXT.com, Tremec, Roush Performance, VMP Performance, and many more.
Evan J. Smith/Automotive Journalist Bio
Evan J. Smith is an automotive journalist and passionate enthusiast/racer. He is the former editor of Muscle Mustangs & Fast Fords magazine/Mustang-360.com, and founder of REVan Media Inc., which specializes automotive content creation, including writing, video production, photography, social media and consulting, REVan Media supplies exciting and compelling content to a variety of outlets including Hot Rod magazine, NHRA, Ford Motor Company, and many more.
When not behind the camera or keyboard, Evan can be found behind the wheel in NHRA drag racing, open track road racing, and as a factory development test driver for Ford Motor Company.
Evan's professional career started while working at the famed Old Bridge Township Raceway Park (also known as Englishtown) where he served as a track official and began to craft his skills as a journalist and a racer. This real-world training was complimented with a degree in Automotive Technology, English and a Journalism minor. Evan has owned a variety of performance cars, including a 1971 Pontiac GTO, 1969 Pontiac Firebird, 1971 Chevrolet Camaro, once of each body style Mustang from 1979-present, and he currently owns a 2016 Shelby GT350 Ford Mustang along with his original 1987 5.0 Mustang.
Hometown: Brooklyn, NY/East Windsor, NJ
Current residence: Tampa, FL.
Professional Highlights:
Over a 20-year tenure, Evan served as associate editor, technical editor and editor-in-chief for Muscle Mustangs and Fast Fords magazine/Mustang-360.com (along with group content director for Muscle Mustangs and Mustang Monthly magazines)
SEMA member
Evan has produced and stared in hundreds of car-related videos
Evan has thousands of published articles to his credit, covering all aspects of the automotive hobby including human-interest features, technical "how-to" articles, event coverage, and much more.
Multiple television appearances including: NHRA Today, NHRA Heat, Fox 5 News (New York) and ESPN's Cold Pizza, and most recently 'Burndown Battle' which appeared on Fox Sports, where Evan coached an amateur drag race driver in a late-model Ford Mustang all-out race car to compete against a professional racer.
Evan worked at the famous Englishtown Raceway Park for six years, while attending Montclair State University.
Racing Highlights
2012 One Lap Of America class winner in a Roush RS3 Mustang
2012-2014 Selected by as a factory test driver for the Ford Mustang Cobra Jet racing program
2011 NHRA US Nationals Class winner (driving a 2008 Mustang)
2011 Ford Racing Cobra Jet Shootout winner (driving a 2008 Mustang)
2010 NHRA Gatornationals Number 1 Qualifier (driving a 1993 Mustang)
18-Time NHRA Class winner, including 5-time U.S. Nationals Class winner
6-Time NHRA National Record Holder
In 1997 Evan Smith became the first NHRA racer to set a national record with a "late-model" fuel-injected Mustang, setting the L/S record at 12.04/110 mph). Evan was the first Stock Eliminator racer with a 302 Ford to break the 10-second barrier when he ran 10.92 with his '93 Cobra in 2006.